CENMS Upcoming Events
Here is the memo about the 8th grade Dance and End-of-the-Year Luncheon.
Attached is a letter regarding the 8th gr Field Trip to Busch Gardens tomorrow.  Also, included in the letter are instructions where you can signup to receive text message alerts about the trip.
Tryouts for cheerleading will be held May 11 – 15.  Students who want to try out must have the athletic forms packet completed by May 11.  Packets can be found on the school website or at the front office.  If you have any questions please contact Coach Becky Maxwell.
The national Take Your Sons and Daughters to Work day is scheduled for Thursday, April 23. As you know, that day falls during state end-of-course exams.
With this in mind, we will use the same process we've used the past couple of years for parents who wish to take their children to work with them at their place of employment outside the district. If you would like to take your child to work with you on this day please understand that we will be in the middle of 7th gr FSA testing, and it would be best if you could please choose another day for them to attend your workplace not during our testing time.  If your child is in 8th grade this day will not be a problem, the majority of 6th graders will be finished testing, but please contact Edith Webb in the front  office to make sure that your child will not be testing.  We understand that this is a great experience for our students and we appreciate your cooperation in helping make sure that students do not miss their testing dates.
District employees who wish to bring their son or daughter to work with them may do so on Friday, May 29.  Employees also must prearrange their children's absences with their principals and teachers if they plan to participate on May 29.
If you have any questions please do not hesitate to contact the school.  Thank you
Congratulations to our "Runaway Train" Odyssey of the Mind Team consisting of:  Lauren Stallworth, Peyton Phaller, Pierce Thomas, Robert Thomas, Gregory Travis, and Aaron Wilson for their 3rd Place finish at the State Competition.  We are very proud of your hard work and effort!!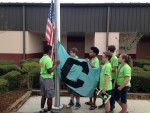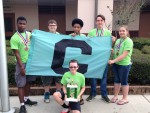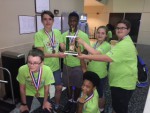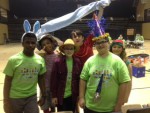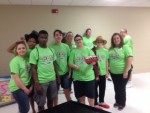 Congratulation to our Odyssey of the Mind team that is going to State on Saturday 4/11 in Orlando. This team has been working very hard at getting ready to represent us at the State Competition.  The team's project is Runaway Train. The team members are Aaron Wilson, Gregory Travis, Lauren Stallworth, Pierce Thomas, Robert Thomas, Peyton Phaller, and Coach Jessica Maxwell.  We are very proud of all of your hard work and wish you the very best at State Competition on 4/11.  GO CYCLONES!!!
The deadline for yearbooks has been extended, you can purchase them for $40 (at this time there will be no add-ons available, names, icons, etc).  We will not have very many extras, so please make sure to reserve yours today.    Please download the following  form and have your student bring it and payment to the media center 1st period to Mr. Mumaw yearbook sale form.
2nd Annual Cyclone Family Fun Run 5K/1K
Sat, April 11, 2015
You can register online using the School Pay link under "Parents"
Please click 2015 Family Fun Cyclone Run  for more information.
You can also download the 2015 WAIVER and send in your registration form via mail or drop off in the Main Office.
Also if you are interested in being a sponsor for the Cyclone Family Fun Run please click 2015 SPONSORSHIP LETTER[1].
Thank you for your support of our 5K/1K, please help spread the word.
Attached are the Krispy Kreme Fundraiser papers for our Parent Support Club Fundraiser.  The forms and money are due to the front office by the end of the day Friday, March 6th.  Thank you for your support of our Parent Support Club, all proceeds benefit CENMS.  Please click on  the following link to access the forms:  KrispyKremeFundraiser
The Elementary and Secondary School Act (ESEA) legislation requires that schools provide an annual status report each school year.  The 2013-14 school year report is now available from our District's Accountability, Research, and Measurement website at:  http://www.pasco.k12.fl.us/research/accountability
Please click on the link below for a short video of what students, parents, and staff say that makes Centennial Middle School such a great school.
PHS will be here at CENMS to talk to students about Course Cards Wednesday, February 25th @ 8:50am.
ZHS will be having a Registration Jamboree: a festive occasion for parents and students with information about programs offered, AP teachers, clubs.   A flyer will be given out at lunch.
"ZHS Registration Jamboree" is for parents and students and will be biggest jamboree ever.  Tables will be set up for families to explore the programs offered, meet teachers of AP classes, learn about all the clubs, etc.  Keep an eye out for the flyer and come join the festivities!
Excellent Job
CENMS

Student Athletes!
7th Grade Girls Basketball:  3rd place for GPA in Conference
8th Grade Girls Basketball:  1st place for GPA in Conference
Boys Soccer:  3rd place for GPA in Conference
We are proud of your accomplishments!